Articles
List of Events for 2018
Ancestors in the Canadian Fencibles Regiment?
We do not hold any information about soldiers of the original regiment. We present several sources of information
Burning of Washington DC
An account of the Bicentennial Burning of Washington DC as commemorated by the Canadian Fencibles in August 2014.
Sir John Johnson War of 1812 Plaque Dedicated
On Thursday, 23 June 2016 a Colour Party of the Canadian Fencibles participated in the unveiling and dedication of a plaque recognizing the service of Sir John Johnson during the War of 1812-1814.
Canadian Fencibles and the Loyalist Fifes and Drums appearance
Canadian Fencibles and the Loyalist Fifes and Drums appearance at the Army Ball in Gatineau, QC in 2013.
Welcome to the Canadian Fencibles Web Site!
Welcome to the site for news and information about the Canadian Fencibles Regiment.
News - Robin Morris, founding member passed away
On Tuesday, 9 December 2014 we lost a good friend and founding member of the recreated Canadian Fencibles Regiment. Robin Morris passed away in Ottawa that day with family at his bedside. He had been ill for some time.

One of Robin's interests was Canadian history. He thought that more Canadians, including school aged children, should be made aware of more of Canada's rich history and traditions.

He discovered historical reenacting and what it offered toward his interests and in the 1970s joined Jessup's Corps, or Loyal Rangers, of the American Revolutionary War time period. Perhaps Robin joined Jessup's because of his connection with Prescott and the historical connection between the Corps commander, Edward Jessup and his son being the founders of that town.

Robin must have enjoyed taking part in historical reenacting because a few years later he became a member of the King's Royal Yorkers, continuing in this time period in history.

In the early 1980s a group of foresighted historical reenactors with an interest in recreating an 1812 regiment met to discuss the possibility and determine which regiment would be selected. Robin, along with Victor Zubatiuk, Bob Anglin, Robert Henderson and a few others, participated in these first meetings in Victor's kitchen when the ideas were forming. Robin provided input which helped with the selection of the Canadian Regiment of Fencible Infantry, or Canadian Fencibles. And he was there with them when the regiment first appeared on the field. Robin was a very proud member of the regiment and contributed to some of the early debates over correctness or appropriateness of articles of clothing or other subject that took place at the annual meetings.

He also loved being a member of the Royal Navy reeactors in the Revolutionary War and War of 1812 time periods. He and his good friend Bob Irvine attended many events.

Robin was a strong supporter of his town of Prescott. For many years he was a driving force on the Prescott Loyalist Days Committee. He enjoyed seeing numerous reenactors taking part in the encampments and battles for the fort, demonstrating Canadian history and the life of the Loyalists. His narration of the battles and events was second to none. Robin's knowledge supported by his extensive reading.

Robin was involved with the Crysler Farm Battlefield Historic site being part of the organization Friends of Crysler Farm Battlefield Memorial. He enjoyed narrating the different battles and battle scenarios portrayed at historic reenactment events at the site. Making excellent use of his extensive and in depth knowledge of history, he would provide background information and weave it into the description of the activities taking place on the field. He seemed to be relaxed behind the microphone while the battle raged in front of everyone. When not at the microphone one would see Robin in his Canadian Fencibles or Royal Navy uniform speaking with the site visitors.

Over the more than three decades of reenacting, Robin met many people. Robin earned the respect of each of them and enjoyed speaking with everyone. When news of Robin's passing was learned, a number of reenactors remembered him fondly and passed along good words about him and sympathy to his family.

Robin, you remain in our hearts and thoughts. We know you will be there with us on the battlefield and in our encampments.






Below are:
1. the obituary as linked by the Ottawa Citizen (www.ottawacitizen.com) in the newspapers of 11 and 12 December,
2. an article about Robin from The Villager (http://russellvillager.com), and
3. a photo of Robin dressed as a Jessups Corps soldier from home.ripnet.com/legacy/colonel_edward_jessup/uel_col_j/edwardjessup.html.


1. The obituary for Robin Morris as linked from the Ottawa Citizen.
www.legacy.com/obituaries/ottawacitizen/obituary.aspx?n=robin-richard-morris&pid=173438046

Robin Richard Morris December 23, 1949 - December 9, 2014 Robin Richard Morris drew his last, and mercifully peaceful, breath on the morning of Dec 9, his loved and loving wife Kathryn and his beloved younger son Evan at his bedside, and adored older son Tristan in his heart.

Robin was a doting father, proud newspaper man, loved husband. community supporter, monarchist, trend setter, military re-enactor, dapper dresser, and 60s British invasion and Blues lover, who firmly believed there hadn't been a good rock'n'roll song written since "Satisfaction."

He was the publisher of The Chesterville Record, and The AgriNews. He was born and raised in Prescott, Ont.

He was the love of Kathryn's life, his father's son, mother's joy, older sister's wonder, the sometimes burr under his brother's saddle, and his younger sister's consummate big brother. Nothing awed him so much as his sons Tristan and Evan, of whom he often said "I didn't know what love was until they were born."

Robin was too smart to live without disquiet, and the cigarettes that once offered him some measure of freedom were his deal with the devil; they ultimately delivered him into the tortures of chronic obstructive pulmonary disease.

He was a keen debater and editorialist with a quick wit and sharp memory (The night was thick and hazy, when the Picadilly Daisy carried crew and captain down to the sea....). Pity any unfit sparring partner in either ring.

Robin was predeceased by his parents Jack and Ida (nee Baker d 1991) and brother John (d 2004). In addition to Kathryn who, although "late to the game," as she said, could not have loved or offered him more (and for this the whole family will be eternally grateful), and his heart broken "T & E", Robin is survived by older sister Connie (Dan Clark) of Belleville, and younger sister Deborah (Bruce Allan) of Toronto.

A private family service takes place this week, with a celebration of Robin's life following next summer by his beloved St. Lawrence River. He will go out with a bang, as from a cannon shot. Rule Britannia!

Special thanks to the incomparably kind and gracious Ottawa General Hospital 6th floor NW Palliative Care staff. Donations in Robin's memory to The Lung Association, or The Friends of the Crysler's Farm Battlefield, (c/o Rob Irvine, 8 Fifth St., Johnstown, On K0E 1T1) will be gratefully acknowledged.

Who killed Cock Robin?

"I," said the Sparrow, "with my bow and arrow. I killed Cock Robin."....

All the birds of the air

Fell a-sighing and a-sobbing

When they heard the bell toll

For poor Cock Robin.

Published in The Ottawa Citizen from Dec. 11 to Dec. 12, 2014


2. The following article about Robin Morris comes from The Villager at www.russellvillager.com
The article and photo are reprinted with permission from The Villager.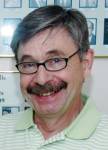 CHESTERVILLE ' Despite the energy-sapping condition that removed him from his regular seat in front of an iMac at 7 King Street, Robin Morris soldiered on for years as a telecommuter to his beloved newspaper office in Chesterville ' at the very place where his father started his journalism career more than 70 years earlier.

By telephone and Internet, The Chesterville Record publisher maintained a virtual presence at the 120-year-old paper almost up until his death at the Ottawa General Hospital late Tuesday morning. He discussed story ideas for The Record and the monthly Eastern Ontario AgriNews with editor Nelson Zandbergen as late as Thanksgiving weekend.

Morris, who would have turned 65 on Dec. 23, had been in declining health related to chronic obstructive pulmonary disease (COPD) for the past several years. Still, staff were shocked and saddened to hear of his passing.

"It's just so hard to believe that the voice of Robin Morris has been stilled, that he won't be calling or emailing us anymore," said Zandbergen, who credited Morris with sharpening his skills as both a writer and photographer. "From long experience, Robin had a feel for the news, the questions to ask, and the incredible work ethic and discipline necessary to churn out product for readers each week."

"We have lost one of the greats who truly loved a real newspaper and everything it represented and offered its reader," said Kreg Raistrick, co-owner of Winchester Print, the printing contractor for Etcetera Publications (Morris's publishing company).

Though a traditional newsman in many ways, Morris embraced new technology. Long, long before the iPhone, he was a stalwart fan of Apple computers. He introduced cutting-edge digital camera technology to the shop in the late 1990s when folks were still amazed by it.

The son of Jack and Ida Morris, Robin Morris came from a publishing family. After university, he joined his father and his brother, John, both deceased, at their Prescott-based newspaper firm in 1974. A couple of years later, following Jack Morris's retirement, the brothers undertook their first major expansion by purchasing The Record, where their father got his start as a reporter decades earlier.

As Robin Morris himself recounted in a story about his brother, the family then purchased the Tupper Lake (NY) Free Press in 1977 and established the AgriNews the following year. They added the Winchester Press to their list of publications in 1981. In the 1990s, Robin wound up going it alone as owner of The Record, AgriNews and The Russell Villager (since amalgamated with The Record).

Morris was a fan of both sports - especially the Ottawa Rough Riders - and history. A key organizer of Loyalist Days in Prescott, he went on to revive interest in the Battle of Crysler's Farm as president of the Friends group associated with the monument.

Following in the steps of his parents, the Chesterville Rotary Club inducted Morris as a Paul Harris Fellow in 2007. At the time of the surprise honour, Morris told the Club that covering news in the local area was a "tremendously rewarding" vocation "because of the projects undertaken by people like you."

He leaves behind a wife, Kathryn Guthrie, and two adult sons, Evan and Tristan.

Morris's good friend Bob Irvine offered a famous quote from the funeral of Admiral Nelson to sum up his feelings about the deceased: "I grieve for the loss of the most fascinating companion I ever conversed with."

The family plans a private funeral, with a public celebration of Robin's life to follow this summer.


3. A photo of Robin dressed as a Jessups Corps soldier from home.ripnet.com/legacy/colonel_edward_jessup/uel_col_j/edwardjessup.html